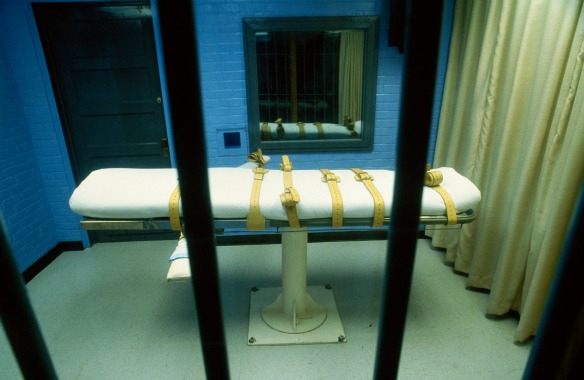 Never Murder.  –Exodus 20:13 (God's Word Translation)
As an African American woman who identifies with the Hebraic roots of the Christian faith and who has found a theological home in womanist theology, my religious tradition informs my views of the death penalty in general and as it affects Black women in particular. As a follower of Yahshua (Jesus), the Ten Commandments are still very relevant to my life and shape my ethics. I do not separate the message of the Gospel from the cultural context that Yahshua was born into. In light of this I still observe the Sabbath and when I read in Exodus 20:13 that "we should not murder," that applies to my brothers and sisters who are incarcerated as well. As a practical womanist theologian who works against mass incarceration's impact on Black women and girls through the PICO National Network's Live Free Campaign, which works to end mass incarceration and police brutality, I am grieved by how the intersections of racism, sexism and classism collide to send my sisters to death row. Do we see these women?
As a woman I am inspired by the account of the Egyptian enslaved woman Hagar, who after being unjustly cast out of the home of Abraham and Sarah with her son, encounters the "God who sees her" (Genesis 16:13). Like Hagar, African American women in the criminal justice system are usually unseen and unheard, especially those who are on death row. According to academics Harry and Sheila P. Greenlee, "The percentage of women of every race receiving death sentences is less than their percentage in the female population, except for African American and Native American women. The percentage of African American and Native American females receiving death sentences is more than double their percentage of the U.S. female population. Interestingly, this finding is not true for the other women of color." It should also be noted that Native American women face disparities in the criminal justice system as well, and this reflects the ongoing injustice faced by the general Native American population since the inception of the United States, which prospered due to the stolen land of Native Americans and stolen bodies of Africa. Theologically I believe that sin is not only individual but also social and is embedded into the very fabric of American society. The United States' original sin is racism, and the death penalty is just another reflection of this sin. Theologically we must see the millions of Black women and girls who are abused by the criminal justice system, whose lives end not only in murder on death row but also while in police custody. In July 2015 five Black women died in police custody and their names are:
Sandra Bland

Kindra Chapman

Joyce Curnell

Ralkina Jones

Raynette Turner
I would challenge advocates against the death penalty to expand their work to include advocacy concerning those who die in police custody, because in my opinion this goes hand-in-hand with the death penalty: One is formal, another is informal, but both are murder by our criminal justice system.
As a faith-based organizer I know that what must be done about the death penalty in general, and its impact on Black women in particular, is that we need to get organized. But this organization should be led by African Americans because we are the ones most affected by the injustice of mass incarceration. Ending the death penalty has to be a part of a holistic campaign to reform our broken, profit-driven mass incarceration system. African American women must organize against the death penalty in all its forms—whether it's a sister sitting on death row for ten years or Sandra Bland who died in police custody. We have to organize with prophetic public actions, standing not for but with women on death row, because the most powerful movements are led by those closest to the pain.
We also must organize by withholding our money and our votes. According to the Nielsen Company study entitled "African American Consumers: Still Vital, Still Growing in 2015," African American buying power is 1.1 trillion. According to the "Buying Power of Black America" report by Target Market News, "the purchases made by Black women are the single biggest influence on the growth of African American spending." With this buying power we can begin to boycott those companies that utilize prison labor and those companies that invest in private prisons. According to my colleague Margarida Jorge, national director of the Women's Equality Center, African American women are the most consistent voters for the Democratic Party. With this voting power, we should demand of all political parties, but especially the Democratic Party, that our support be tied to candidates willing to stand against the death penalty. According to research from Wesley Granberg-Michaelson in his book From Times Square to Timbuktu: The Post-Christian West Meets the Non-Western Church, the average Christian in the world today is a woman of African ancestry. Black women not only have buck and ballot power; we have the power to influence the Christian church to take on the issue of ending the death penalty. For non-Black women allies the death penalty affects all of us and your voice as an ally is extremely important in supporting a movement to end this sinful practice in our criminal justice system. We all must get organized to build a groundswell that says the death penalty is unacceptable in our society. We all must see those who are on death row because they are our brothers, sisters, daughters, sons, friends, and neighbors. It is only when we see the tragedy of a criminal justice system that murders rather than reforms that we will create a society that honors the lives of all.